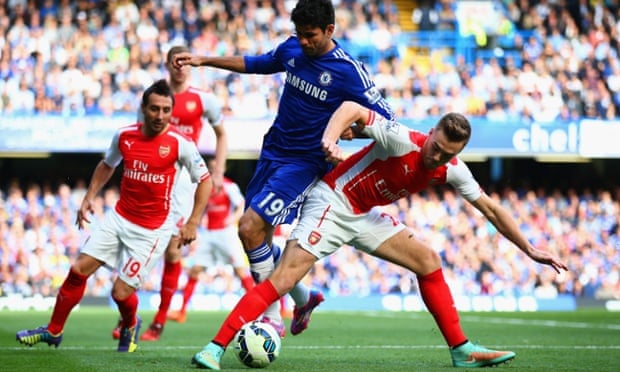 Throughout the years, the Arsenal and Chelsea rivalry has grown more intense — not only for the players, but for the managers as well.
Arsene Wenger and Jose Mourinho has had a war of words since Mourinho's first stint at Chelsea, and emotions seemed to get the best of Wenger in the 1st half. After a rash challenge by Gary Cahill on Alexis Sánchez, the Arsenal manager left his technical area and shoved Mourinho in defense of his player. That incident was a signal of how important this match was to Wenger.
In their previous eleven matches, Wenger has yet to defeat Mourinho, and today was no different.
Chelsea continued their early dominance in the Premier League, and their recent dominance over Arsenal with a 2-0 victory at Stamford Bridge. Despite the loss, Arsenal improved on last year's performance when Chelsea trampled them 6-0, and there are positives to take from this game — most notably, Jack Wilshere's performance.
Wilshere was strong in midfield and made darting runs to penetrate Chelsea's defense. Often, he has been criticized for not being strong on the ball and giving up possession way too easily, but today, he was good on the ball and looked threatening at times.
Overall, Arsenal's play wasn't bad, and they controlled possession for the most part. One of Chelsea's goals came from a penalty, while the other came from a sucker punch on the counter attack.
In the 27th minute, Eden Hazard was taken down by Laurent Koscielny in the penalty area — Koscielny was unable to stop Hazard's darting run towards goal. Hazard later converted the penalty to give Chelsea the 1-0 lead.
To start the game, Arsenal sat back and defended deeper than usual, but after that goal, Arsenal began to open up and push their players forward. Later, that space behind the back line was exploited by Diego Costa, and in the 78th minute, he chipped the ball over Szczesny for a lovely finish.
Who provided the assist? None other than former Gunner captain Cesc Fábregas. He currently leads the Premier League with 7 assists, and many continue to question Wenger as to why he didn't bring back Fábregas. His replacement, Mesut Özil didn't have a great game, and often lost possession in the attacking third, but to be fair to Özil, he was placed on the wing where he's not that effective.
My Personal Thoughts:
It's hard to argue Wenger's selection of a central midfield trio of Cazorla, Wilshere, and Flamini. Cazorla played well in central midfield, alongside Flamini, against Galatarsaray midweek — it's not hard to see why Wenger would try Cazorla in the middle again against Chelsea. Also, many would say that Oxlade-Chamberlain should have started, but it's hard to argue against Wilshere's performance today.
Team selection wise, the only problem was starting Özil on the wing, but with the plethora of central attacking midfielders that Arsenal has, at times, he will have to pushed wide.
Tactics wise, we all know that Wenger loves to keep possession and play through the middle, but against a team like Chelsea, who likes to sit back and counter, changing the focal point of the attack could be very beneficial. Chelsea were packing the middle of the pitch, making it near impossible for Arsenal to penetrate their back line. To counter this, Arsenal should have utilized the wings more often to stretch out Chelsea's defense and to create more space to hopefully exploit.
As a Arsenal supporter, it hurts to see Fábregas wearing the blue of Chelsea, but it's understandable why he wasn't brought back. Wenger has enough players in his position — Özil, Ramsey, Wilshere, and Cazorla, just to name a few. The 30 million pounds that would have been spent on him can be put to better use to fill more pressing needs, such as defense.
Now Arsenal find themselves in a 9-point hole early in the season, but don't fear yet Gunners supporters, there is still a lot of football to be played.